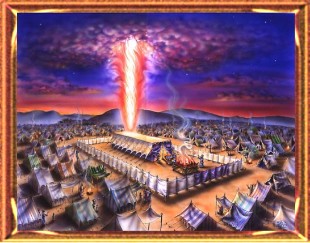 Sabbath Pledge
A Sign Between God And Man
The Sabbath a Sign to the World of Loyalty.
-- From the pillar of cloud Jesus "spake unto Moses, saying, Speak thou also unto the children of Israel, saying, Verily my Sabbaths ye shall keep: for it is a sign between me and you throughout your generations; that ye may know that I am the Lord that doth sanctify you" (Exodus 31:12, 13). The Sabbath is a pledge given by God to man--a sign of the relation existing between the Creator and His created beings. By observing the memorial of the creation of the world in six days and the rest of the Creator on the seventh day, by keeping the Sabbath holy, according to His directions, the Israelites were to declare to the world their loyalty to the only true and living God, the Sovereign of the universe.
By observing the true Sabbath Christians are ever to bear to the world faithful witness of their knowledge of the true and living God as distinguished from all false gods, for the Lord of the Sabbath is the Creator of the heavens and the earth, the One exalted above all other gods.
"Ye shall keep the sabbath therefore; for it is holy unto you. . . . Six days may work be done; but in the seventh is the sabbath of rest, holy to the Lord:
whosoever doeth any work in the Sabbath day, he shall surely be put to death. Wherefore the children of Israel shall keep the Sabbath, to observe the Sabbath throughout their generations, for a perpetual covenant. It is a sign between me and the children of Israel for ever: for in six days the Lord made heaven and earth, and on the seventh day he rested, and was refreshed" (verses 14-17).-- 1901. 3SM 256